We are thrilled to announce two meteorologists have recently joined our forecast team! With severe weather season in full swing in the northern hemisphere and the Atlantic tropical season just around the corner, it is critical that we have additional eyes on customer sites around the globe. Alec and Samantha are well-rounded meteorologists with zest for dynamic weather. Here's more about them:
Alec Muniz, Marine Meteorologist 
Q: What is your favorite weather phenomenon?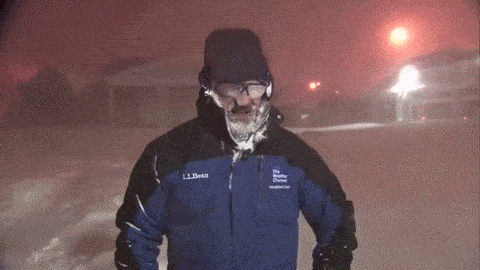 Thundersnow has to be my favorite weather phenomenon as I have experienced it a few times in Wisconsin. White out conditions with thunder is almost as exciting to me as it is to Jim Cantore.
Q: How has extreme weather affected you and/or your family?
A memorable event was the Groundhog's Day Blizzard of 2011. Southeast Wisconsin received 1-2 feet of snow, with my house receiving 2 feet of snow. A State of Emergency was issued with the National Guard being deployed. After vehicles started getting stuck, a Civil Danger Warning was issued. Besides the storm, the most exciting part was having two consecutive days off from school. However, I had a snow removal job for a lawn care company at the time, so after shoveling my house out I ended up working through the night. That night a stranger gave me $100 to snow blow the end of his driveway where the plows came through, since those mounds were 2-4 feet high.
Q: Where are you from? How are you adjusting to living in Houston, Texas?
I am from Racine, WI, which is in the county south of Milwaukee, however I was living in Milwaukee prior to moving to Houston. It has been a big change to move across the country, especially going from 40 degrees to 80 degrees. I am enjoying the weather (before it gets too hot) and all of the sunshine, since that is something lacking during Wisconsin winters. However, I do have my doubts that I will never get used to Houston traffic.
Q: What is something that many people may not know about you?
I have a twin brother but we are not identical and have opposite interests. Many people do not believe that we are twins; I actually had to convince a Subway employee once to receive a free birthday cookie, after my brother received one. I am the older twin by 12 minutes. He was bigger than me at birth, but I have been the taller one ever since.

Samantha Borth, Marine Meteorologist
Q: What is your favorite weather phenomenon?
Medicanes! – "Mediterranean hurricanes" – Rare, small-scale tropical-like systems that spin up in the Mediterranean Sea. They were virtually undetectable until satellite imagery came about. Even now, only high-resolution models detect their potential formation. Some medicanes even form an "eye" like hurricanes. They can have major impacts on the shipping industry in the Mediterranean Sea, and when they make landfall to coastal areas. I studied them in my master's thesis and was fascinated by these "hybrid" mini hurricanes.
Q: What was your favorite meteorology course in college? You've also received your Master of Science in Integrated Climate System Sciences from the University of Hamburg. What was your favorite course while studying in Germany?
My favorite lecture at Valparaiso University was aviation meteorology, but my favorite course was our convective field study. We spent 10 days storm chasing on the Great Plains! We received college credit, and I was able to see my first tornado in Kingfisher, OK. Need I say more? My favorite course at the University of Hamburg was probably "general circulation of the atmosphere" or "climate and energy policy". I had people in my class that were forecasters in Nigeria and Indonesia…etc. It was interesting to hear their stories. The program was very interdisiplinary, which I loved.
Q: What are your interests outside of weather?
Going to concerts and traveling! I love exploring new places and have a serious case of wanderlust. When I'm not traveling, I'm always either dreaming of traveling or planning my next adventure…whether I've bought tickets yet or not. I also enjoy going to concerts (especially country concerts) – it's my favorite summer activity. There's just something about cowboy boots, country twang, and a hot summer day…
Q: If you could close your eyes and be anywhere on Earth when they opened, where would you be?
This one is tough, but my top three would be: Milford Sound, New Zealand, Tromsø, Norway, or Valparaíso, Chile